In our last blog, we looked at metrics maturity and how companies turn performance reporting into an optimized part of an innovation strategy. A key factor to bear in mind when devising a strategy for any innovation program is the regularity with which these metrics are being reviewed.
Viewing analytics in isolation, without trend tracking or comparison, means that it is unlikely to produce insights that will inform quality decision-making. The roadmap that was discussed in that previous blog finishes with a stage that should see businesses decide how regularly to review this data.
When looking at the polling on what organizations are already doing, we find that most businesses are reviewing figures monthly or quarterly. A further 6% review annually, and less than 3% of respondents have metrics as an always-on capability.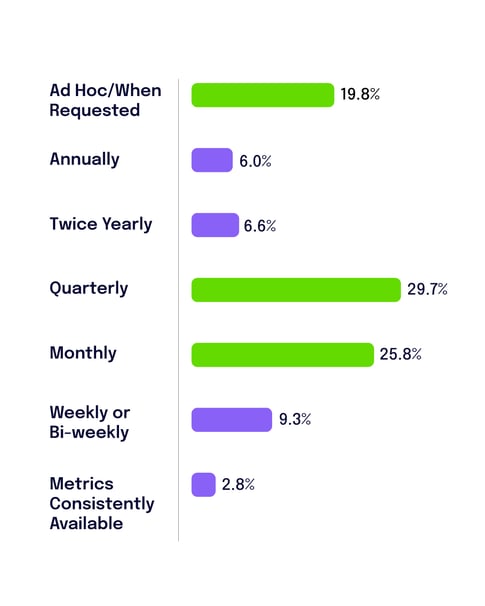 This diversity of time scale – even though it is clear that a majority of businesses find monthly/quarterly reporting to be the best – shows that there is no right-or-wrong answer.
Rather, it's about making sure that whichever timescale is decided upon is kept to. This will most effectively provide the organization with information on progress, outputs, and areas of the program that may need changing.
Ensuring that the innovation program is capable of producing reports that can be easily sourced, analyzed, and used to inform key decision making is a key consideration. Whether starting from scratch or deciding which of the available pre-built innovation programs to choose, reporting underpins every success or failure that a program has.
In this blog, we've focused on the importance of reporting frequency in innovation metrics. We've looked at what the majority of businesses are doing in this area and offered reasons why making this a focus from the outset is vital.
To find out more about how Wazoku makes innovation metrics easier to understand and use, visit our Advanced Analytics page!