As with a lot of business projects, the capability of an innovation program is often directly linked to its level of maturity. By 'maturity' here, we don't necessarily mean the length of time that a company has been using an innovation program – although progress in this area does require a certain amount of time to become established.
By 'maturity', we are combining the time a company has spent with an innovation program with its level of usage. There is no point in expecting maturity to magically arise out of a program the longer that an organization has it. It still requires consistent usage to optimize its impact on the wider business.
In this blog, we are going to look at the concept of program maturity, discuss where the majority of businesses currently find themselves on the innovation maturity curve, and offer some insight on what it takes to build maturity into an innovation program.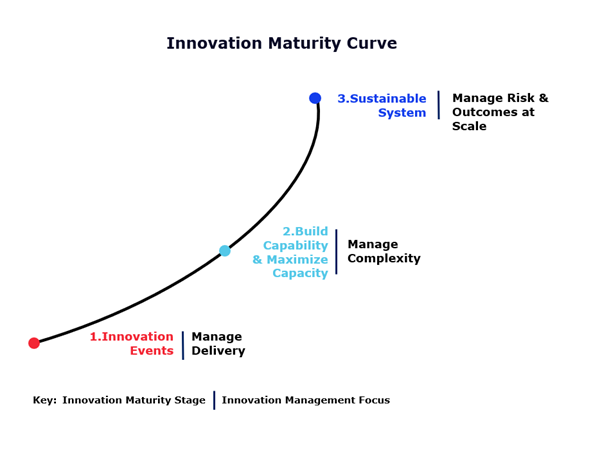 We have devised this innovation maturity curve based on our decades of experience in this space. It illustrates how this concept works and what the three different levels of innovation maturity look like in the real world.
Most businesses that we encounter are operating at the lowest level of maturity: Innovation Events. These are small scale, one-off innovation projects aimed at quickly solving a problem effectively. They can work well in achieving this aim, but a company is not able to achieve long-term, recurring change by exclusively running innovation events.
If an organization finds that these events are proving successful, and repeat this process on a few different occasions, that innovation program will be moving up the maturity curve to the second stage. Here, companies tend to be building complexity and maximizing the capability of their innovation efforts.
The issues that are being tackled may not have obvious solutions, and therefore will require more resources and a better process to be resolved. Building a capability that allows people within the organization to solve problems more consistently is a mark that the innovation program is growing in maturity.
As the complexity of this process increases and the engagement among the members of an organization grows, an innovation program reaches the top of this curve and exists as a sustainable, always-on system for innovation. At this level, crowdsourced innovation as a resource is available to anyone in a business network with a problem to solve.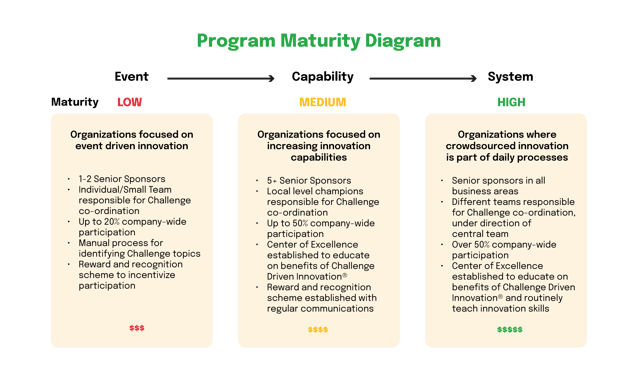 In order to get the most out of whichever position a company is on the curve, we've identified the key features of innovation programs that can succeed at any given level. Illustrated above, we find that the more mature an innovation program becomes it needs:
A higher number of sponsors at a senior level
More robust coordination
Growing participation
Increased automation
Rewards and recognition to be intuitive
At present, based on a poll conducted during our recent webinar series on Analytics, we discovered that most participants view their own innovation programs as being at an event level. In discussing innovation maturity further, we hope that this blog has outlined the factors that define different stages of maturity for innovation programs. We've also highlighted the key factors that suggest a move from one stage of the innovation maturity curve to the next. Finally, we've explained how this progress requires focused engagement and oversight, with programs needing fostering to become more maturity - not just left to the passage of time.
To find out more about how Wazoku makes innovation metrics easier to understand and use, visit our Advanced Analytics page!