Innovation never stands still, and neither does our product. In these 'Product Roadmap' blogs, we provide updates, insights, and previews into what is coming up with the Wazoku platform. Building on the things discussed in our biannual Product Roadmap Webinars, here we go into depth about both new features and upgrades to existing capabilities.
In February's Product Roadmap webinar, our Senior Director of Product & Design Flemming Rasmussen previewed our Scouting at Scale objective. Here, we will aim to provide the tools and functionality to make it easier to identify, segment, and target companies and new and emerging tech to support your innovation program.
Today, I'm happy to take this a step further, and outline our vision for Scouting at Wazoku throughout the rest of 2023.
At its core, the Scouting Portal will enable organizations to identify and adopt new technologies, start-ups, scale-ups, and SMEs more dynamically. By having always-on calls for new prospects that meet their specific needs/objectives, Wazoku will deliver the most comprehensive Scouting capability on the market.
Engaging with Emerging Tech
Integral to this vision is a new feature within the Scouting Portal to capture and manage activity at the Company level. This feature will initially offer the ability to capture companies as a distinct entity within the platform.
Once the company is captured, all related activity by all related users can be associated with that company. This allows you to track and measure the activities, solutions, and Challenges the Company has been involved in.
A Work in Progress
Below, we present some very early mock ups of what the new Scouting Portal will look like within the platform, helping to visualize the concept.
Please be aware that this is subject to change, and we expect the final release to look different to the screenshots presented here.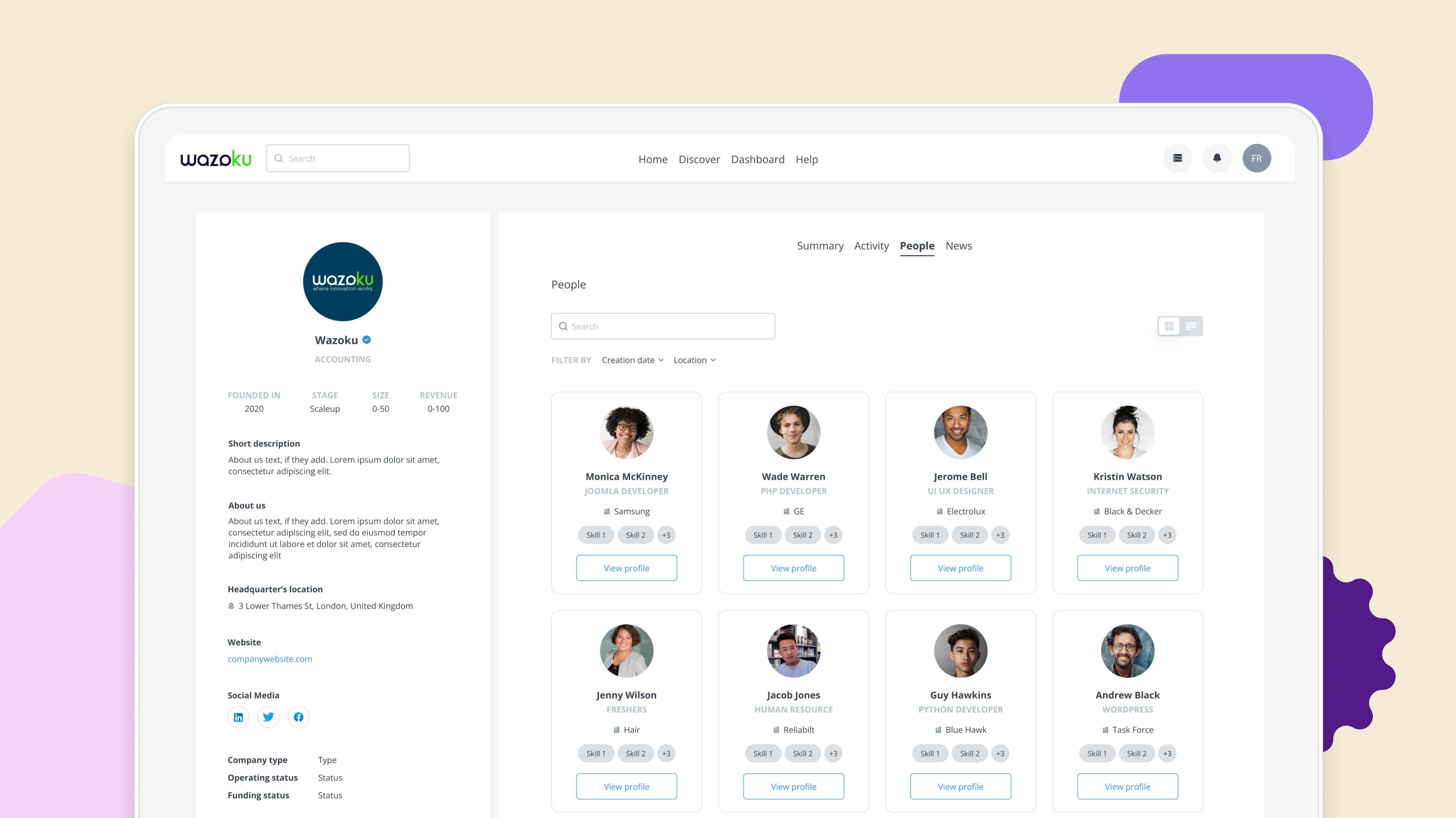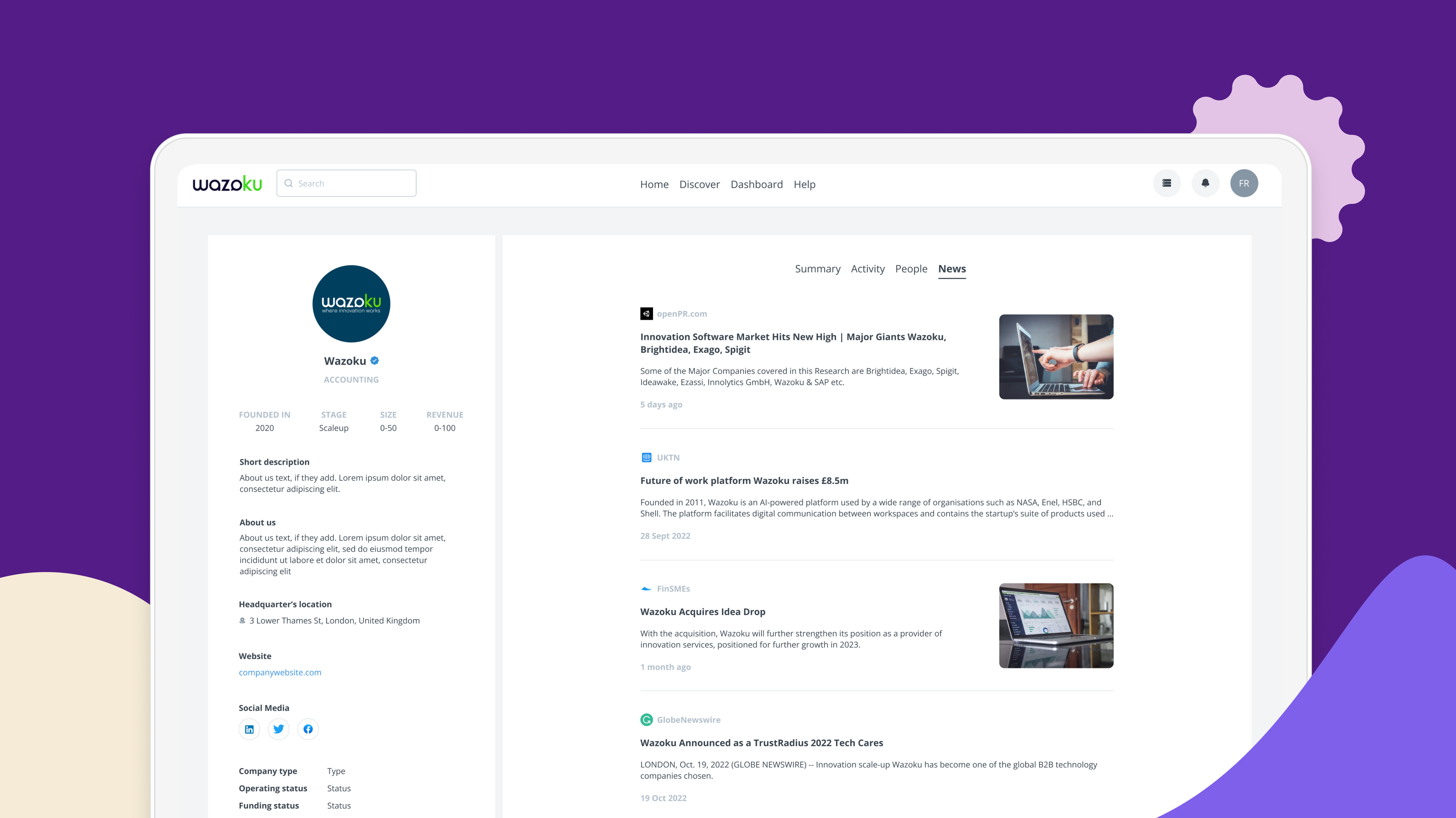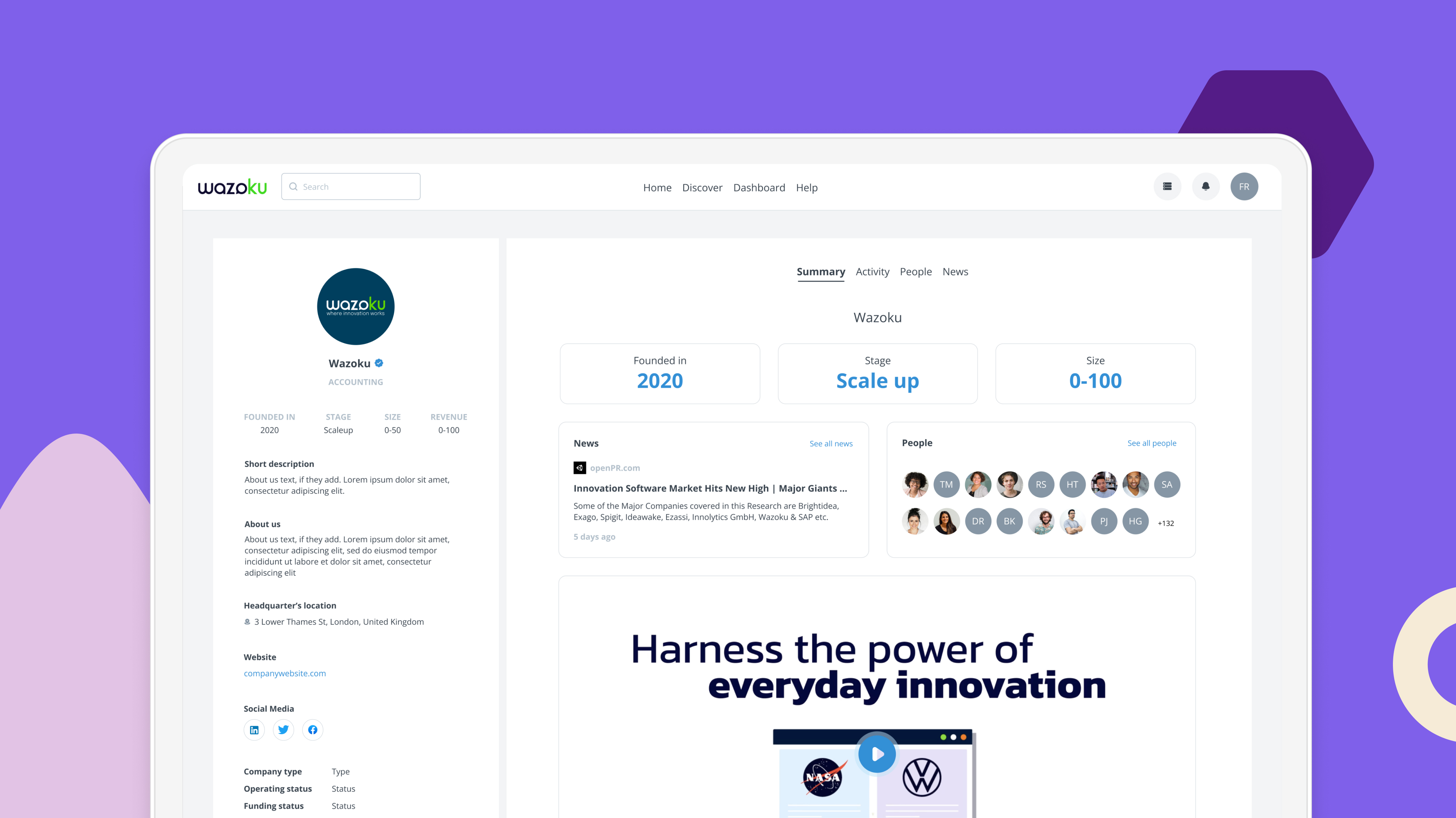 A Vision for the Future:
Once we've built out the Company foundation, we will further bolster our Scouting offering to include:
Integrations with relevant Third-Party data sources (for example, Crunchbase and other, sector-specific databases) that can fill out and/or maintain the data about a company, including recent funding updates, new patents, other relevant news, and more!
A specific workflow to manage the vetting and engagement of companies so that the entire organization is aware of these companies and whether or not collaboration has been approved.
A rating system to provide feedback on a company, its employees, and its technology, so that users can ensure they are selecting the most appropriate companies to engage with.
Recommendations that support Challenge Managers with better oversight of potential solutions, partners, and projects that already exist to solve a problem.
Open Calls that act as an always-on process for finding new and interesting companies and technologies to collaborate with, as well as allowing users to tap into our ever-expanding SME Wazoku Crowd.
Integrations with Third-Party project management systems, allowing users to manage projects with companies while keeping the data flowing back to the platform. This all helps to produce a dynamic view of the company and what problems it can help address.
In this blog, I've introduced the next stage of the development of our Scouting Portal. Highlighting the introduction of Companies, I've explained how we will work to make companies singular and distinct on the Wazoku platform, ensuring easier collaboration between different organizations. Finally, I've also explained where our Scouting Portal will move beyond that, including new integrations and functionality.
Scouting is an area that all organizations are going to have to excel at in the near future. Here at Wazoku, we're building a capability that makes this process easier, cheaper, and more effective than anywhere else. I'm excited to see how our offering develops throughout the rest of 2023, as we continue to push the boundaries of what Scouting can achieve for any business, anywhere, at any time.