No one starts a company with the intention of winning awards. It's about bringing a vision to life, making a difference, working with great people and much more.
At Wazoku, our mission is to change the world, one idea at a time. Our vision is to be the world's leading innovation software company, enabling problem-solving at scale and helping people to find, capture and share ideas to improve our world.
We are making excellent progress on both mission and vision. But when awards do come along, it's undeniably gratifying. The first half of 2022 has been particularly successful for us on that front, and we'd like to share some of our successes with you here.
Technology Vendor of the Year – Real IT Innovation Awards
As a company that eats, sleeps and breathes innovation, it was perhaps fitting that our first success of the year should come in the Real IT Innovation Awards. We won in the Technology Vendor of the Year category, amongst some very stiff competition.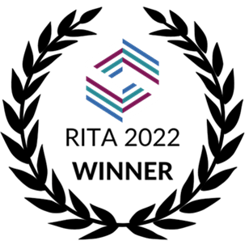 Our goal is to create the world's leading Enterprise Innovation Platform and do what Salesforce did for CRM in the innovation industry. We are still on the journey to complete the latter, but we have undoubtedly achieved the former.
Industry analysts have described our platform as 'unique in the market', and some of the biggest global enterprises use it to find solutions to existing problems and unearth new opportunities.
Our proposition is based on the power of people, supported by technology. We already knew we had fantastic people, and it's amazing to see the technology element recognised too.
One of the Fastest Growing Companies in London
We are a global organisation with offices in the US, Denmark and Colombia, but we are proud of our heritage in London. It remains our HQ and is where our co-founder and CEO lives and works. We have an incredible location right by the river Thames, which we are retaining as we continue the transition into a hybrid world of working.
This is why we were so proud earlier this year to be acknowledged as one of the fastest-growing companies in London, the fifth-fastest to be exact, according to London Daily News. We've put enormous effort into assembling a first-class team, evolving our proposition and delivering outstanding results for our customers, which have all contributed to our stellar growth.
With more than 1,000 entrants to these awards, it's a fantastic achievement for our employees worldwide.
Silver Award Winner at the UK Business Awards 2022
Our most recent success came on 7 July at the prestigious UK Business Awards 2022, at which our CEO Simon Hill was a finalist in the Leader of the Year category. Simon presented Wazoku's strategy over the past two years, outlining the company's achievements and platform for growth, before getting a (friendly!) grilling from a panel of other business leaders.
Simon was a finalist alongside leaders from OnBuy, Wharton Business Consulting Ltd and Rigby. Everyone had a clear vision for the future and how they should get there and could reel off a long list of successes over the previous few years.
After much deliberation, Simon was announced as the silver award winner at a virtual awards ceremony – another trophy in the bank, a stark contrast to Simon's beloved Manchester United!
The world is facing some of the most significant challenges it has ever done. Global health crises, climate change, and access to clean water are just a few of the challenges us right now. Addressing them is of the utmost importance, and doing so can be incredibly complex and involved.
Our platform is helping clients address some of those challenges, and our work helps save lives and creates billions of dollars of value. That's what makes us most proud.
But seeing this work recognised by the wider world in the form of these award successes is the icing on the cake. None of our work was done to win awards, but it still feels good to do so. Thanks to every single employee, customer, partner, crowd member, advisor, consultant, relative, and friend who has helped us on the journey so far.