As December rolls around once more, businesses around the world are reflecting on how the last year has played out. In the past 12 months, there are successes to be celebrated and mistakes to learn from as we all head into the holiday season. But there's no fun in mulling over the might-have-beens and the what-ifs. So, in this blog, we're going to look exclusively on the bright side, and recount what a truly extraordinary time Wazoku has had in 2022.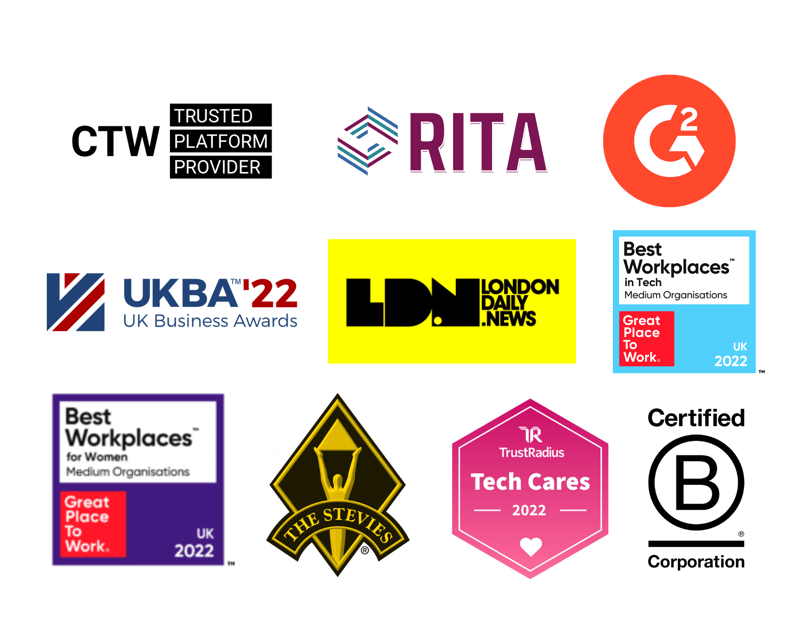 In total, we've added an impressive 10 awards and certifications to our 'trophy cabinet' this year. These recognize our work as a company as well as on an individual level, while also validating our position in the innovation industry and as a socially responsible corporation.
Great Places to Work: Wellbeing
One of two awards we received this year from Great Places to Work, this award saw us place #45 on the list of 250 businesses recognized for their ongoing commitment to employee mental health and wellbeing.
Center for the Transformation of Work (CTW): Trusted Platform Accreditation
As further proof of our tireless pursuit to achieve more, this year we became the first company in the world to receive this accreditation. Our Wazoku Crowd of millions of problem solvers helps businesses to tackle problems that wouldn't otherwise be solved – and the CTW sees this as a blueprint for the future.
Real IT Innovation Awards: Technology Vendor of the Year
Fending off tough competition from our fellow nominees, this award recognized the technology that we use to help our customers deliver innovation on a daily basis. Labelled "unique to the market" by industry analysts, this award affirmed that our technology really is at the forefront of innovation.
London Daily News: Fastest-Growing Companies in London
No company, regardless of its product or its technology, would achieve success without a great team. This year, we were recognized as the fifth-fastest growing company in London – where Wazoku HQ is based – ahead of over 1,000 other entrants. This award was a great way to celebrate the achievements of our employees in London and around the world.
UK Business Awards: Leader of the Year, Silver
A great team needs a great vision and with Simon Hill at the helm, Wazoku has a leader committed to building on the company's achievements. In a competitive group, Simon's enthusiasm for the future and Wazoku's success over the past two years saw him awarded the Silver in the Leader of the Year category.
Great Places to Work: Women
The second of our awards from Great Places to Work saw Wazoku named as one of the UK's best workplaces for Women in 2022. With a female co-founder, an executive team that's one-third women, and 60% of our line managers are also women, Wazoku lives and breathes inclusivity. We are a workplace that proudly supports and encourages women.
STEVIE Awards: Company of the Year, Computer Software/Medium-size, Silver
In August, Wazoku was named as the winner of the Silver Stevie® Award in the Company of the Year, Computer Software/Medium-size category at the 19th Annual International Business Awards®. This year's event received nominations for businesses across 67 nations and territories and, in this category, Wazoku was recognized for its "creative solution on centralizing innovation" and "providing sustainable and scalable innovation to enterprises."
B Corp™ Certification
After two years of tireless work, in October we were announced as one of the world's first innovation companies to achieve the prestigious B Corp™ Certification. This is an accreditation that recognizes companies that meet the highest standards of social and environmental performance, transparency, and accountability. A huge part of Wazoku's work internally and with customers involves sustainability and environmental considerations. This certification really underpins our commitment to building a better, cleaner, greener future for us all.
TrustRadius: 2022 Tech Cares Award Winner
Wazoku was also named as one of the global B2B organizations chosen as a TrustRadius 2022 Tech Cares Award winner. This award recognizes businesses with a strong commitment to corporate and social responsibility (CSR), reflected in our carbon neutral status – held since 2020 – and our wellbeing-centric culture.
G2: Idea Management, Leader
In the last week or so, it was also announced that on the popular business review site G2, Wazoku has earned 'Leader' status within the Idea Management sector. This reflects the feedback from our wonderful clients who, as well as providing constructive feedback that feeds into our product improvements, are keen to celebrate the victories that we've supported them in achieving.
As a business, it's immensely satisfying to win any kind of award. To do so on a regular basis, and to be recognized for so many different areas of your organization – from workplace culture, sustainability, leadership, technology, etc. – makes 2022 extra special for Wazoku.
As with so many things, these awards represent another step in our journey and not an end point. However, these successes deserve to be celebrated and are a testament to the tireless effort that our extraordinary team gives to our company: day-in, day-out.